"Tips To Expand Or Develop Marketing Strategy and Increase Your Profits"
Marketing strategy sets the overall road map, structure, direction and step-by-step goals for marketing. Effective marketing means a clearly defined marketing strategy. 
Why do some businesses thrive while many still continue to struggle? Are you frustrated?
Why? Because other businesses whose products or services aren't as good as yours are enjoying boosts in sales from month to month?
There are three reasons why this happens:
Reason #1: Successful businesses have solved the most important piece of the puzzle when it comes to effective prospecting.
Any company (large or small) which isn't getting as much business as they can handle simply means they don't know how to consistently get as many prospects as they need.
Reason #2: Successful businesses do an exceptional job of differentiating themselves from all their competitors.
They offer a difference which is so unique, they're immediately viewed as a "category of one" and the only business buyers or customers would logically choose to buy from.
Reason #3: Successful businesses sell more of their products or services by actually marketing less. Why?
Because by targeting more effectively and segmenting buyers from time-wasters or "tire-kickers", means the time and money they invest in marketing is reduced significantly.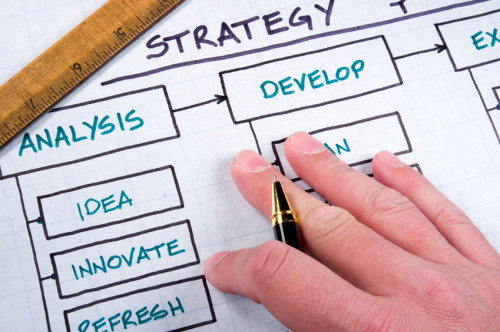 Develop a marketing strategy which is key for your business success. Bear in mind the best marketing strategy is simple, yet empowers you to define your business success:
Vision
Mission
Goals
The 3 areas outline the steps you need to take to achieve these goals, which are developed to structure your unique selling position (USP) in consultation with your business team.

Your marketing strategy  is essential to your success, affecting the way you run your entire business, would it make sense to take it off your to-do list and actually implement today?
 Use a wide-reaching and comprehensive tool to develop marketing strategy that:
Describes your business, products and services
Explains USP and role of your products and services in your market
Profiles your buyers (prospects, leads, customers) and competition
Identifies marketing strategies and tactics which you would use
Allows you to build a marketing strategy and measure its effectiveness
Develop marketing strategy so the marketing plan outlines the daily specific actions you take to implement your goals with tactics to be achieved over 12 months.
Develop Marketing Strategy And Enjoy A Thriving Business…
A well-developed marketing strategy empowers you to realise your business goals and build a strong reputation for your products and services.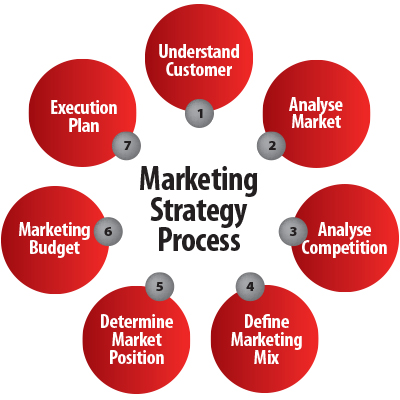 The best marketing strategy process allows you to specially target your products and services to the ideal buyers most likely to buy.
Develop marketing strategy to include the components listed below to help you make the most of your marketing, keep your marketing focused, measure and improve your sales.
Structure And Plan Your Business Goals
To develop your marketing strategy, identify your overarching business goals, so that you can then define a set of marketing goals to support them.
Your business goals would include:
Increasing awareness of your products and services
Selling more products from a certain supplier
Reaching new customer segments
State your marketing goals
Define a set of specific marketing goals based on the business goals you listed above. These goals will motivate you and your team and help you benchmark your success.
Examples of marketing goals include increased market penetration (selling more products to existing customers) or market development (selling products to new target markets).
Marketing goals could be long-term and might take a few years to successfully achieve. However, they need to be clear and measurable and have time frames for achievement.
Make sure your overall strategies are also practical and measurable. A good marketing strategy will not be changed every year, but revised when your strategies have been achieved or your marketing goals have been met.
Also, you may need to amend your strategy if your external market changes due to a new competitor or new technology, or if your products substantially change.
Research Your Market
Research is a crucial step to develop marketing strategy.
You get information to establish your market, size, growth, social trends, demographics (population statistics age, gender and family type)…
It is important to keep an eye on market conditions so you are aware of any changes over time, so you develop marketing strategy which remains focused, relevant and targeted.
Profile And Segment Buyers
Use your market research to develop a profile of the customers you are targeting and identify their needs.
The profile will reveal their buying patterns, including how they buy, where they buy and what they buy. Again, regularly review trends so you don't miss out on new opportunities or become irrelevant with your marketing message.
While you try to find new customers, make sure your marketing strategy also allows you to maintain relationships with your existing customers.
Understand Your Competitors
As part of your marketing strategy you'd profile your competitors to understand the products, supply chains, delivery system, pricing and marketing tactics they're using.
Use this to differentiate and set your business apart from your competitors.
You'd want to identify strengths and weaknesses of your internal processes to improve your competitive advantages and performance compared with your competition.
Develop Marketing Strategy To Support Your Marketing Goals
List your target markets and plan strategies to get and retain for example; goal is to attract specific (age group) of buyer's and increase awareness of your products and services.
Your strategies would increase your reach by posting updates about product using online social media platforms; Twitter and Facebook.
Advertising in local magazines targeted to specific buyers and offering discounts and/or financial incentives without damaging your short-term sales and long-term growth…
 

Use The 4 Ps of Marketing

Develop marketing strategy with the right combination of marketing across product, price, promotion, place and people.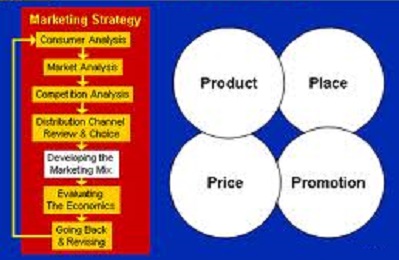 Tip: Develop marketing strategy to maximise your customer lifetime value…
The 4 Ps are a set of marketing tactics, which you can use in any combination to satisfy buyers in your target market.
These variable are controllable, yet subject to your internal and external marketing environments.
Combining these different marketing tactics to meet your buyers' needs and wants is known as using a 'tactical marketing mix'.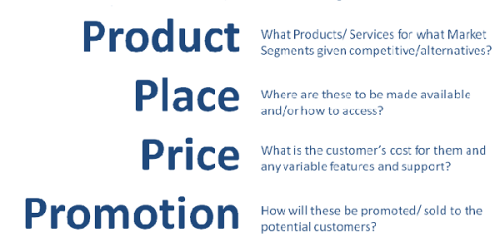 Product is all of the features, advantages and benefits your buyers enjoy from buying your goods or services.
When marketing your product, you structure only the key benefits your buyers want or need, including the emotional triggers and results of buying and enjoying your products.
Price is the strategy for your products and services and how it affect your buyers decision.
You'd know how much buyers are prepared to pay, how much mark-up you need to cater for overheads, your profit margins and payment methods and other costs.
To get more customers and increase your competitive advantage, you may also want to consider learning more about the right pricing structure of your products.
These are promotional activities you use to make your customers aware of your products and services, including advertising, sales tactics and direct marketing.
The right place is about getting the products to your customer which includes where a product or service is made, sold or distributed.
You can set yourself apart from your competition through the design of your retail space and by using effective visual merchandising techniques.
If you are not a retail business, place is still an important part of your marketing.
Your customers may need a quick delivery turnaround or want to buy locally manufactured products.
If you are starting a new business, finding the right location can be a key marketing tactic.
People refer to the staff and salespeople who work for your business, including yourself.
When you provide excellent customer service, you create a positive experience for your customers, and in doing so market your brand to them.
In turn, existing customers may want to refer other people they know and spread the word about your excellent service, basically how you can win referrals.
Develop Marketing Strategy By Testing Your Ideas, Tactics and Options…
In deciding your tactics, do some online research, test ideas and approaches on your customers and your staff, continue to track and measure, review what works.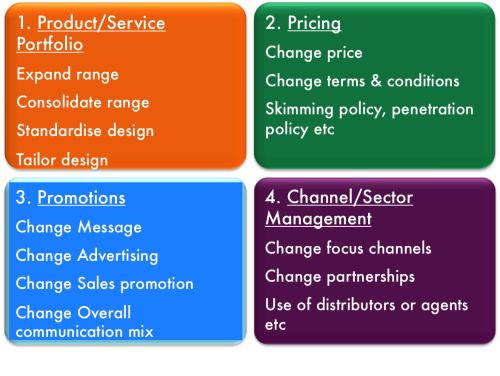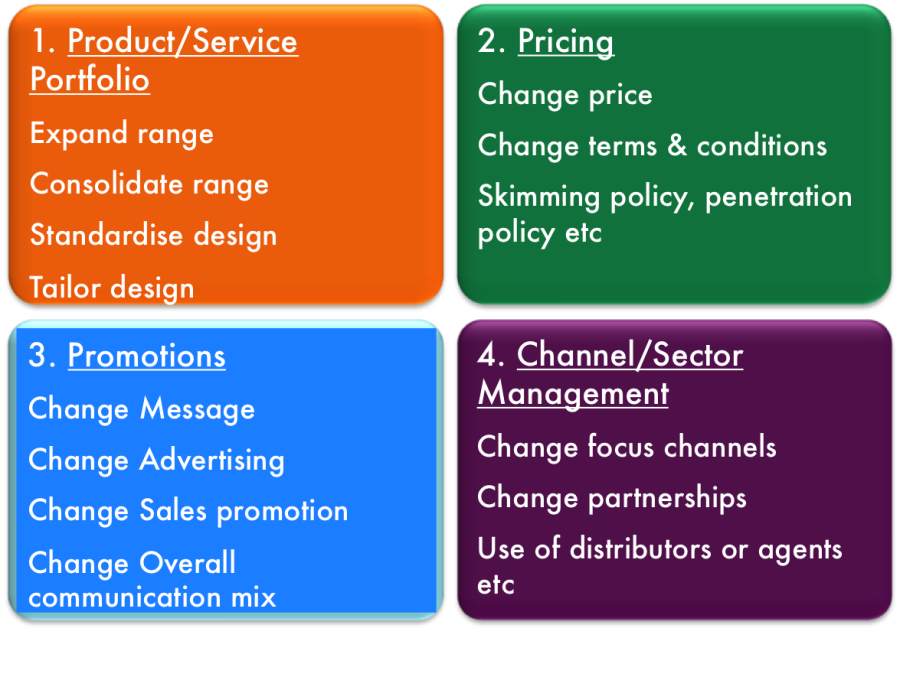 You want to choose a number of tactics to meet your buyer's or existing customers' needs, reach the customers within your target market and improve your sales results.
The marketing strategy overview you've just seen reveals some costly mistakes, if fixed, would make a significant difference to your business profits.
If you'd like us to empower you to implement a proven marketing strategy reach out, get in touch and we'll give you a call to see how to best develop marketing strategy to get results.
Develop Marketing Strategy