"Why Would You Want To Unlock Your Greatest Strategic Sales Funnel?"
It's the exact reason why 99% of marketers and business owners are not making the amount of money they want and deserve…
Want to know how to avoid weak or losing campaigns.
How to get more customers who can't wait to buy from you.
How to set expectations while raising prices and take advantage of more sales opportunity almost overnight…
Dear Savvy Business Owner,
Believe it or not, of the 99% surveyed the biggest fear was they're afraid to invest in traffic to promote their own products or services.
HUGE costly mistake…would you agree?
Is it easier to wait for customers to come to your business?
OR…
Is it way easier and more profitable to invest in advertising with an irresistible offer to get customers coming to your business?
Finally, why you need to focus on monetization using a strategic sales funnel to drive growth and prioritize the most ROI?
If you're sick of jumping between tactics hoping something works, keep reading this special report because this is 100% just for you…
Yes, it's the almost perfect strategy for ANY business owner, start-up, sales professional, entrepreneur or large scale organization.
In fact, why not model what the most successful companies do, just take one of the world's most successful franchises on the globe…
Use their simple strategic sales funnel with proven process, you'll have a strategy which fuels your business to reach new heights.
Know why your sales funnel is important to you?
You want more motivated buyers and higher conversions, right?
You build email lists NOT to get leads, but to actually get buyers…
Big problem is most potential buyers are not ready to buy on the first interaction.
Is this why your sales funnel is very important to you?
You want a simple, yet very cost effective way to generate less leads and get more customers regardless of industry or market you're in.
Quality vs quantity, allow me to explain…
The key is knowing metrics (numbers) and be RELEVANT.
You can hurt your business with unprofitable campaigns.
If you don't have goals and objectives clear, you are setting yourself up for failure (over spending or even stopping campaigns to early)
If you don't know our numbers you'll never know when or be able to scale up campaigns…
If you don't have follow-up sales mechanism, you'll more than likely have unprofitable campaigns.
If the front offer you're promoting is targeted and super relevant to buyer, your conversions will skyrocket.
The reality is most people expect to drive tons of cheap traffic and make more in sales than what they spent in advertising.
Sorry it is NOT going to happen if you don't know what you're doing.
Look, advertising can be VERY profitable but it's simply boils down to understanding the right traffic source.
The reason why this is important is because you want to build lots of goodwill in a very short time frame.
That way people start to associate your brand with VALUE and you're going to gain authority.
This gives you more opt-ins…
And people want to open your emails and buy more from you.
You buy the right traffic…you get clicks. Period!
Feel free to do your own research to make sure you pay for the right traffic source which is relevant to front offer and target audience.
Now before paying for traffic, the point is where to send this traffic?
You'll want to go ahead and set up a landing page or squeeze page in order to convert the traffic into subscribers.
The sales funnel process is where you drive right traffic in order to generate leads who opt-in / subscribe to newsletter (special report).
And you're able to build relationships by following-up with them.
Drive right quality traffic, generate leads which become buyers…
To find the right buyers (target audience), you create a front offer with message that truly connects them on an emotional level.
What if you have a consistent flow of buyers?
It's only a matter of time before you enjoy the next level of profits with business success.
The problem is most struggling businesses don't generate leads.
No leads coming in on a daily basis…
You need leads by driving the right traffic to your landing page or squeeze page.
Leads that can opt-in to your sales funnel…
You continue to buy the right traffic that brings subscribers to you.
You build a list of buyers with a subscriber base, while you make money.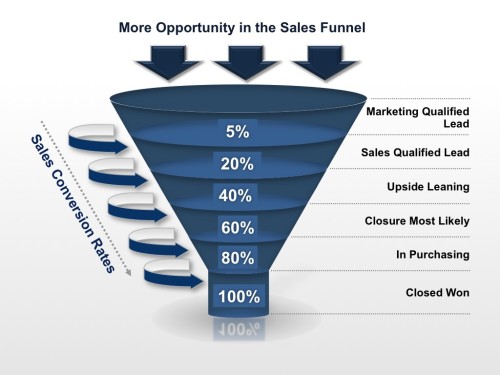 Get paid to build your subscriber and buyer list…
Sounds too good to be true, right?
The sales funnel model goes from lead to subscribers to customers.
This is how you make money with your list by simply driving traffic to promote highly converting front end offers to get right buyers.
We're talking a simple sales funnels in context to 3 step model:
Step 1: Front end offer to generate leads
Step 2: Core offer to qualify buyers
Step 3: Measure key metrics, conversions and scale-up
Step 3 is where you measure the quality of traffic you are buying.
And just in case you're wondering what serious scale requires?
Scaling up means a serious investment. Period!
And you'll likely need more money for traffic generation to get to climb the mythic marketing mountain.
We're going to go through each part of this process step-by-step.
If you don't understand all the steps from the beginning, don't worry just read everything carefully right now.
You might want to re-read twice and you'll get clear for sure…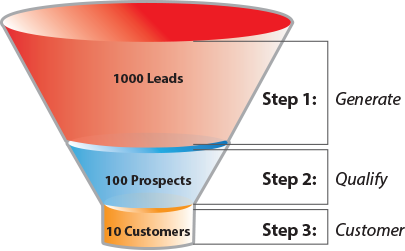 Step 1 of the sales funnel…
The front end offer is carefully selected to align to traffic source and target market wants and needs.
Typically this front end offer is a low ticket offer you can use to get opt-in (subscribers) so you separate or segment leads from buyers.
The idea behind the front end offer is the build your buyer's list.
In order to grow your business you need customers, right?
The first initial step is to disqualify the wrong people.
You do this by getting a sale, even if it's as low as a $1 sale.
Why the $1 transaction?
Simply because you have separated a lead from a buyer.
And the relationship with that lead has just changed.
You see, the lead has just become a buyer and a buyer is up to 20 times more likely to buy again from you…
This is the reason why McDonald's has sprouted everywhere.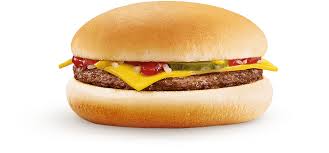 You know what that is but it has absolutely nothing to do with a cheese burger…it's all about sales funnel using a proven formula.
OK…their margin on the front end offer is between 20 to 30 cents.
Ever noticed how easy it is to actually buy only a single hamburger?
McDonald's have engineered and purposely positioned their front offer so well, it would be almost stupid not to buy fries without coke.
Yes, they know what their customers want and how to deliver value.
They know the time-frame and sales cycle with numbers inside-out.
The numbers are the key to a high converting sales funnel…
McDonald's position every sales via low priced cheese hamburger as front end offer to find hungry customers.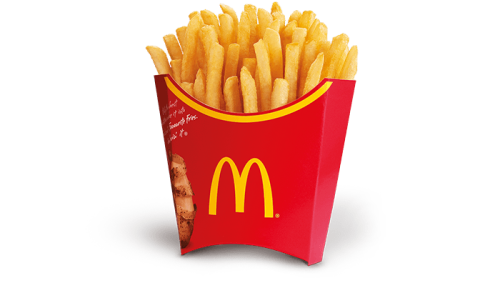 They can in turn up-sell front end offer with fries and coke…
It's successful for a number of reasons in context to self identifying audience, predictable cost per lead, including monetize on back end.
And very complimentary easy to understand back end offer.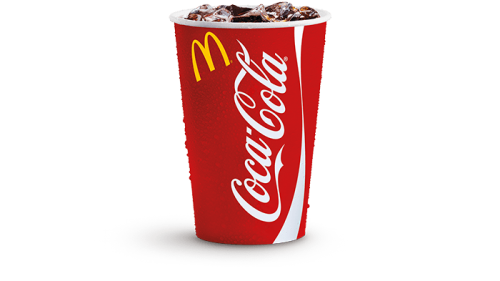 McDonald's uses a variety of sale closes from up sell, down sell and cross sell to keep you spending in buying cycle over and over again.
You can see the way they use the simple sales funnel process…
McDonald's can accurately use this process to predictably measure conversions and scale-up because it is completely systematized.
They know how many people will buy core offer(s) based on data.
And they know how much they can invest to get a new buyer.
Let's take a closer look at the numbers…
If every ten people who buy the $1 front offer in McDonald's, 6 also buy the core offer for $7.
3 upgrade to the full offer of $9
The result is $58 in revenue instead of $10 of the initial front offer.
They need to measure in order to know each customer which buys the $1 front offer is really worth a total of $58 instead of $1.
Keep in mind, the $58 is in context to not even counting 89% of their customers which will return within time-frame of less than 60 days.
So, the front end offer basically allows you to get buyers.
You know a new buyer is 20 times more likely to buy again from you.
And that's the reason why a front end offer can be used to find the right buyer and deliver results with outstanding value.
The sales funnel means the right traffic aligned with right front offer means you get buyers.
Right buyers and ideal customers.
Step 2 of the sales funnel…
You now you have a buyer, so you can up-sell to core offer.
This is actually where you're going to make most of your money.
To be clear, you want a buyer that is an ultra-responsive customer who purchases everything on offer…
And experiences the most value and satisfaction from every purchase made.
Keep in mind the ideal customer are the ultra-responsive buyers where the majority of profits are made.
This is just a very simplified model of how to build your own high converting sales funnels…
The key is to understanding the time frame in your sales  funnel and separate or segment leads (non buyers list) from the buyers.
You do this by putting the right front end to match core offer.
The core offer ideally would be high ticket product or service. Why?
Keep in mind the higher ticket core offer is ONLY offered to buyers who already have purchased, they know and trust you…
They're 20 times more likely to buy again from you, right?
This sales funnel makes it more likely or easier to get the right buyer.
The ideal customer…
The ideal customer is prepared to pay for higher priced core offers.
This could be anywhere from $300, $500 to $2,000 for core offer.
Would it be easier to get 20 customers to pay $100 each?
The catch is as long as your product or service delivers real value…
To determine the price of your up-sell, you must understand the traffic source in combination with your target market's pain point.
Pain point, simply means the time-frame and level of priority your customer places on getting the right solution to fix their problem.
This is real value your customer wants, needs and expects in order for them to feel the offer is worth it for them to take action and buy.
If you understand this value, you can provide it to your customers.
This is not the cost you place in delivering the product or service.
For example…
Let's say it takes less than 3 minutes to make a burger.
You could charge $1, but if you know your customers are in a hurry and they only have just enough time to get in and buy that burger…
Do you think you could charge $9?
Yes, you can…so do you think there are other hungry and time starved customers out there willing to pay $9 or more for burger?
Think about this in context to your customer because you could charge 10 times more…
Step 1 of the sales funnel…
This is where you measure and scale-up.
What if you don't measure?
Well, you don't have a viable business.
What if you don't know what your customer lifetime value (CLV) is?
You will find it very difficult to predict net profits attributed to the entire relationship with your customer.
Now what if you  knew by investing $1 you can get $3 in return?
The only way to achieve that kind of result is by knowing the right numbers and measuring.
Knowing what is the right traffic in order to get the right buyers.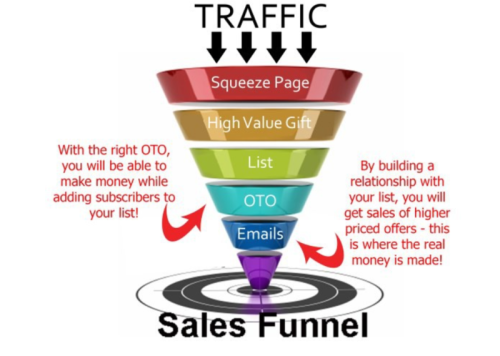 By using your sales funnel and quantifying number of leads and prospects at each stage of process…
You can predict the number of buyers and leads, prospects who in time become your ideal customers.
You need the right traffic source to produce the right buyers.
There you have it, this is one of the best sales funnels you can put to use and profit right now for generating an avalanche of buyers!
What areas of traffic do you need help with:
Facebook
Google Display
Tracking
Reporting
Compliance
Native Ads
Ad Creation
Scaling
Mobile Ads
Video Advertising
YouTube
Pay-Per-Click
Search
Email Advertising
RTB Platforms
LinkedIn
Twitter
Bing
Contextual
In App Ads
Always use the right traffic source and keep offers RELEVANT!
Remember McDonald's sales funnel  strategic blueprint?
OK, you can model and use it as your goal to achieve higher sales.
This is the dynamic power of building an autopilot system.
It all starts with list of buyers via a very simple sales funnel.
Basically a system you can use on autopilot day in and day out…
Here's a quick recap to keep you on track for high performance:
Understand your numbers
Cost of customer acquisition
Relevant front end offer
Make sure to use email follow up
Track sales and conversions
Up sell using back end offer
Retargeting with same front end offer
You can and must know exactly how much you can invest to get a new buyer and ideal customer, (repeat buyer, buys again and again).
It's the perfect strategy for ANY business owner, sales professional, entrepreneur or large scale organization.
Now get the numbers in place to validate your business success…
Like, Share and Ask Your Biggest Questions About Turning Clicks Into More Customers…Everyday Profits For Your Business!
Sales Funnel